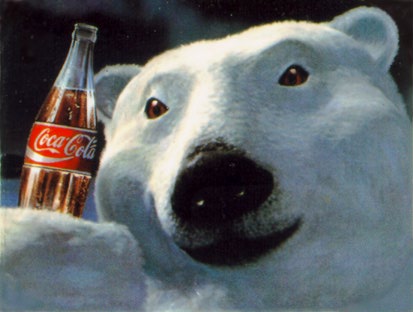 Coca-Cola Cake with Coca-Cola Frosting...
Ingredients
2 cups sugar, granulated 2 cups all-purpose flour
1 1/2 cups small marshmallows 1/2 cup vetetable oil
1/2 cup butter or margarine 3 tablespoons cocoa powder
1 cup coca-cola 1 teaspoon baking soda
1/2 cup buttermilk 2 large eggs
1 teaspoon vanilla

Preparation: Preheat oven to 350. In a bowl, sift sugar and flour, add marshmallows. In a sauce pan mix butter, oil, cocoa powder and Coca-Cola. Bring to a boil and pour over dry ingredients; blend well. Dissolve baking soda in buttermilk just before adding to batter along with eggs and vanilla extract. Mixing well, pour into a greased 9x13 inch pan and bake 35-45 minutes. Remove from oven and frost immediately.

Coca-Cola Cake Frosting
Ingredients
1/2 cup butter -- softened 3 tablespoons cocoa powder
6 tablespoons Coca-Cola 1 ounce confection sugar
1 teaspoon vanilla 1 cup chopped pecans

Preparation: Combine butter with cocoa powder, add Coca-Cola, sugar and vanilla, and mix well. Put pecans on top after frosting cake.